Software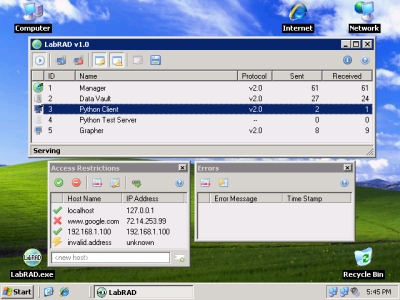 Software infrastructure is no joke. We have created custom (opensource!) software called LabRAD . LabRAD is a platform for quickly and easily creating distributed instrument control and data acquisition systems. Typical research setups involve many devices connected to several computers managed by a group of people. LabRAD helps tame this complexity.
To download (and become a part of the growing population of LabRAD users) please follow the link below to our official LabRAD webpage.
Our open-source data taking software, pyle, is available here. It is published under the BSD v3 license, available here. This research was funded by the Office of the Director of National Intelligence (ODNI), Intelligence Advanced Research Projects Activity (IARPA), through the Army Research Office. All statements of fact, opinion or conclusions contained herein are those of the authors and should not be construed as representing the official views or policies of IARPA, the ODNI, or the U.S. government.