Welcome to the Beth Gwinn Research Group at UCSB!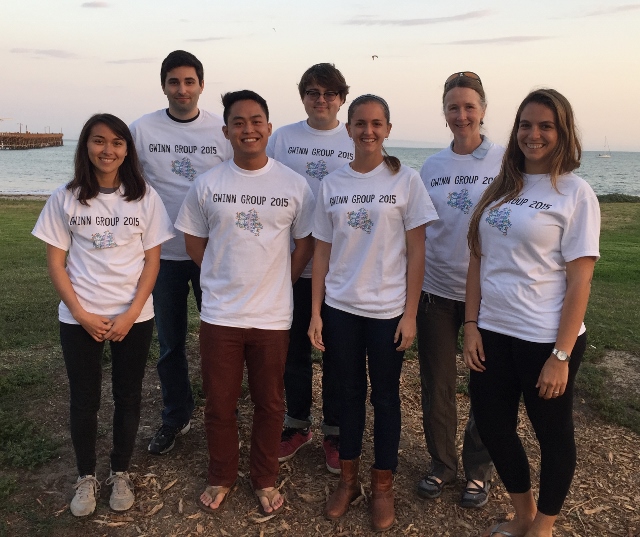 Our research focuses on nanoscale silver clusters that we stabilize using synthetic nucleic acid "cages" of DNA or RNA. We call these nanoscale objects "Ag-DNAs" and "Ag-RNAs". These clusters have unique fluorescent properties, and we study them as ensembles in aqueous solution and as immobilized, individual emitters at ambient and cryogenic temperatures. We are interested in better understanding how these materials work in order to facilitate new applications that employ Ag-DNAs and Ag-RNAs.
---
11/18/16
Congratulations to Dr. Stacy Copp on her thesis defense!
8/24/16: Beth and Steven present current work in invited session Metal & Semiconductor Nanoclusters with Atomic Precision: Fundamentals & Applications at the ACS Fall Meeting in Philadelphia.
8/18/16: Stacy presents at ISSPIC XVIII in Jyväskylä, Finland.
5/23/16 Welcome Sidsel Ammitzbøll Bogh, who is visiting our lab from the University of Copenhagen for the summer!
5/17/16: Our article, "Cluster Plasmonics: Dielectric and Shape Effects on DNA-Stabilized Silver Clusters," is published in Nano Letters.
4/12/16: Our article, "Silver-mediated base pairings: towards dynamic DNA nanostructures with enhanced chemical and thermal stability," is published in New Journal of Physics.
4/1/16: Steven presents current work at the MRS Spring Meeting in Phoenix.
2/1/16: Our article, "Heterogeneous Solvatochromism of Fluorescent DNA-Stabilized Silver Clusters Precludes Use of Simple Onsager-Based Stokes Shift Models," is published in the Journal of Physical Chemistry Letters.
12/3/15: Congratulations to Stacy, who has received several research and mentorship awards at the MRS Fall Meeting.
9/24/15: Our article, "The Role of Hydrogen Bonds in the Stabilization of Silver-Mediated Cytosine Tetramers," is published in the Journal of Physical Chemistry Letters.
For prospective graduate and undergraduate researchers
The work we do is a combination of chemistry, physics, and biophysics. Regardless of your department affiliation, if you are interested in joining a project or suggesting a new one, please get in touch.