Undergraduate Diversity and Inclusion in Physics
UDIP is a club committed to creating a welcoming environment within the physics department at UCSB. We work with the department and coordinate with faculty, students, and other clubs to put on great events and provide resources.
UDIP Sticker Contest
UDIP is planning to add stickers to our merch options once again! We will have two standard physics logo stickers, but we also want to hear from the community and incorporate your ideas.
Contest details:
You can submit multiple designs, but please limit it to 3.
Designs should be at least 500x500 pixels. Any aspect ratio is fine.
Designs are due Wednesday, May 25th before 6 PM.
Email your submissions to lizphillips@ucsb.edu
The UCSB Physics Discord will be invited to vote on the submitted designs. The top 3 winners will receive a prize of 5 free stickers of their choice, and the 1st place winner will get a month of free Discord Nitro! We look forward to seeing all of your great designs!
Data Carpentry presents: Data Analysis and Visualization in Python Workshop
UDIP is collaborating with the Library to run a python plotting workshop for Physics majors! Offered through the Interdisciplinary Research Collaboratory (IRC) and Data Carpentry, the workshop will take place in two parts. It will be run Tuesday, April 19th & Thursday, April 21st, from 9:30-12:20, in an online format.
Physicists have to visualize data very often, and it is a valuable transferable skill to prepare you for a career in anything. You may find the skills learned in this workshop to be useful for plotting data in your classes, or to add to your CV. Minimal python programming experience needed! For more information, and to register, visit the link below. Hope to see you there!
Registration Link!
Welcome back!
Hope you enjoyed your spring break.
AWM Panel
Thanks everyone for attending the AWM Panel! For any attendees interested in further information, the panelists have provided their contact information and additional resources that may be helpful.
Madeleine Allen (LinkedIn, madeleine@gaia-labs.com), Jennifer Rozenblit (jrozenblit@utexas.edu), Rebecca Nishide (rnnishide@hrl.com), Geneva Schlafly (gschlafly@uchicago.edu), Susanna Kohler (visit aasnova.org)
Transfer Panel
Thanks so much to our panelists and attendees for our transfer panel!
Transfer Workshop
Join us for a Transfer Student workshop to learn about ways to succeed as a new transfer! We've invited a mix of transfer students, alumni, and graduate students from the Physics department to speak about their experiences and how you can make the most of your time here at UCSB. The event will be held 6-8pm on Thursday, November 18th in Broida 3302. Our panelists are:
Eila Neuroth (undergraduate transfer),
Jared Pagett (graduate student and UCSB physics alumni),
Kellan Colburn (UCSB physics alumni and transfer student),
Kyle Lam (undergraduate transfer), and
Raffi Shirinian (UCSB physics alumni)
Astro Night!
This Friday, November 19, UDIP will be hosting Astro night on the rooftop of Broida. Enjoy the view with hot chocolate and Woodstock's starting at 7pm! Take the stairs outside the Broida main entrance and follow the signs up to the roof. Please note that we will also be providing vegan options.
UDIP Mathematica Workshop
UDIP will be hosting a workshop on Mathematica with Alex Meiburg, a graduate student in the Physics department!
Mathematica is a powerful calculator used by many physics students, and is a skill worth learning so join us on Tuesday 11/9 at Broida 5223 from 5-6:30PM to participate!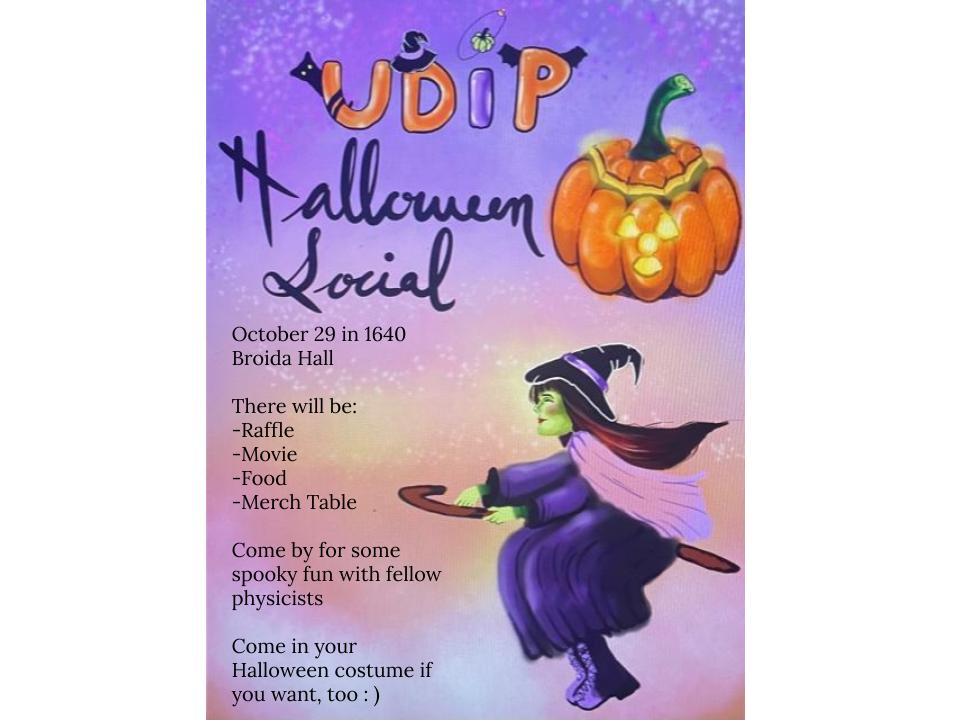 Halloween!
This Friday, October 29, UDIP will be hosting a Halloween social outside Broida at the picnic tables! There will be a movie showing, food, raffle tickets, and physics merchandise being sold.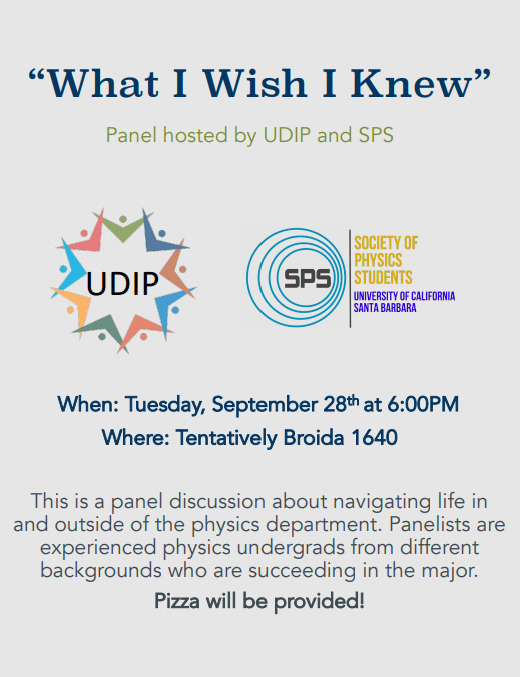 "What I Wish I Knew", with SPS
Welcome to UCSB Physics, to all newcomers, and welcome back to old friends! To start of the quarter, SPS and UDIP have collaborated to run What I Wish I Knew, where a panel of experienced undergraduates with varied backgrounds share what they learned throughout their journey through physics to help them succeed. Pizza will be provided. We are meeting at Broida 1640, at 6PM today! We really hope to see you all there, and can't wait to meet you all!
The event will be held Tuesday, September 28 at 6pm PDT in Broida 1640.
UDIP Updates, 09/20/21
Here's what UDIP has been up to for the past couple weeks!
Pre-Fall news: The UDIP team coordinated with department to create a list of suggestions for running hybrid options in fall reopening plans. This included logistics for meeting recording, hybrid section, and online office hours. Please refer to the project list for the full details of the letter. Thanks to Philip Axelrod of CCS Math for coming to us with the idea!
We have also been preparing for a meeting ith Faculty adviors to figure out the logistics of meeting with a large class size, among other things The ultimate goal is for students to meet with their faculty advisors regularly so as to use them as a necessary resource.
Our first meeting fall quarter will be for welcoming new students, and going over meeting structure as that will be different to online. Please attend if you have any ideas to contribute!
Remember, you can always share your own ideas at UDIP. You can check out the UDIP Project list here to see a guide to how to bring your ideas to life!
Broida Welcome Tour
The UCSB Physics Department is inviting you all to our Broida Welcome Tour! This is an opportunity to meet your fellow physics students, both grad and undergrad, and get to know Broida Hall and all the resources available to you. The event will consist of three parts, research lab tours hosted by grads and faculty, a scavenger hunt throughout the building, and an astronomy night on the roof. We will also have food, demos, and club booths! The event will be on Sept. 25th 2021, and is scheduled as follows: 1:30 - 4:30 PM: Lab tours 4:30 - 6:30 PM: Scavenger hunt 6:30 - 9:30 PM: Food and astronomy night Come by to explore our building, community, and all the resources available to you! There will be food leading up to our astronomy night on the roof. Please fill out our Broida Welcome Tour Form by Monday September 20 to give us an estimate of attendance. Broida Welcome Tour Form This will help us ensure we have enough resources dedicated to this event. Here is a Google Calendar Link for the event if you would like to add it to your calendar. We are looking forward to seeing you all in person! I hope you have a great rest of your summer!
UDIP Updates, August 4
Here's what UDIP has been up to for the past couple weeks!
We are assisting the physics department in setting up a welcome event to introduce new students to Broida and the physics department, which will be held at the beginning of the fall quarter. For more information, please check the notes from this week's UDIP general meeting. Any continuing students who wish to volunteer or assist in setting this up, please contact Natalie LeBaron.
We are still looking for ideas for fall quarter events! Any input is greatly appreciated, including both detailed plans and just ideas. Our general meetings are open to all, and can be accessed via this website or our announcements on the Physics Discord.
Remember, you can always share your own ideas at UDIP. You can check out the UDIP Project list here to see a guide to how to bring your ideas to life!
UDIP Updates, July 22
Here's what UDIP has been up to for the past couple weeks!
Fall quarter: We are preparing math workshops (covering the contents of PHYS23) and a transfer workshop that will help acclimate new transfer students to the physics department. We also plan to set up a distribution of previously collected breadboards, iclickers, and lab kits.
In addition to updating our current projects, we will continue planning and arranging events for the fall quarter at the next meeting. Please attend if you have any ideas to contribute!
Remember, you can always share your own ideas at UDIP. You can check out the UDIP Project list here to see a guide to how to bring your ideas to life!
Physics Town Hall
Thanks to our new UDIP president, PK, for providing notes on the recent Physics department town hall. Click here to access. From the summary provided by the Physics Department Climate Committee,
"This meeting is intended as a follow-up to the department Town Halls held in June and November. We plan to update all of you on progress made since the last Town Hall and continue the dialogue regarding further improvements we can make together. We also plan to take this opportunity to communicate about upcoming developments of interest to the departmental community, including the spring departmental climate survey and aspects of the anticipated return to in-person instruction next fall."
2021-2022 UDIP Electon Results
Congratulations to our new officers for the upcoming 2021-2022 school year, and many thanks to the officers from our last year!
Warm welcomes to our President, PK, Vice President, Pierre Thibodeaux, Treasurer, Siddharth Mukherjee, and Secretary, Lesley Garcia-Huerta, and best wishes for the upcoming year!
Mathematica Workshop
Thanks so much to Alex Meiburg for hosting our Mathematica workshop! We hope that attending gave you an introduction to Mathematica and its abilities, and that you'll be able to apply it for your future physics career.
For those of you who want to watch our recording of the event, click here to log in with your UCSBnetID. Click here for the notebook Alex worked on during the recording. At the end of the workshop, we handed out a worksheet with Mathematica tips and problems for our attendants to try out, which you can access here.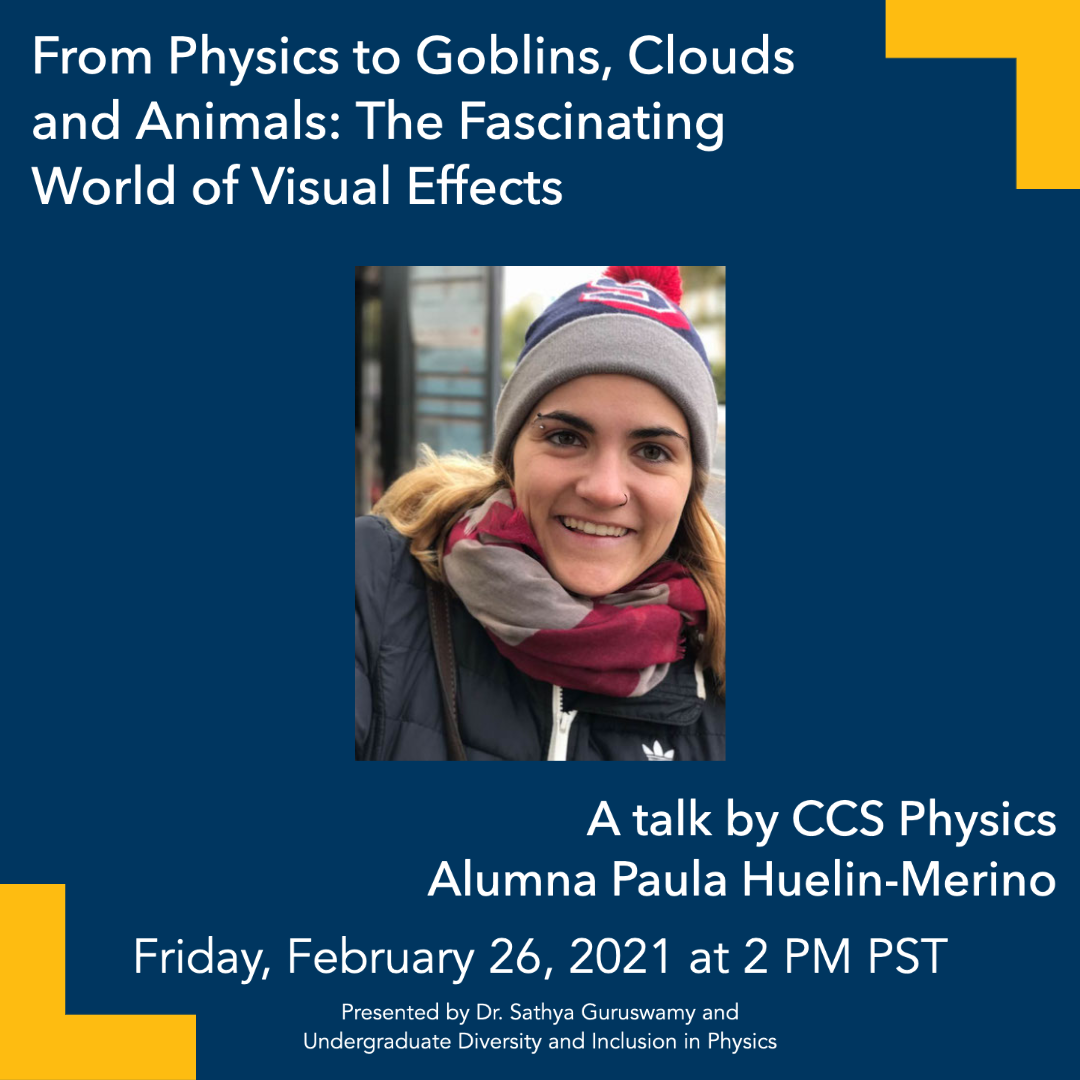 Paula Huelin-Merino
Many thanks to Paula for her time sharing her experiences! We had a great time hearing about her career path, and how she went from a UCSB physics to her current position as a Rendering Engineer at Framestore in London, UK!
Working in VFX or related industries may be career paths that are not typically associated with physics degrees, but there are lots of options available to physics majors outside of academia or other traditional paths.
For those of you who want to watch our recording of the event, click here to log in with your UCSBnetID.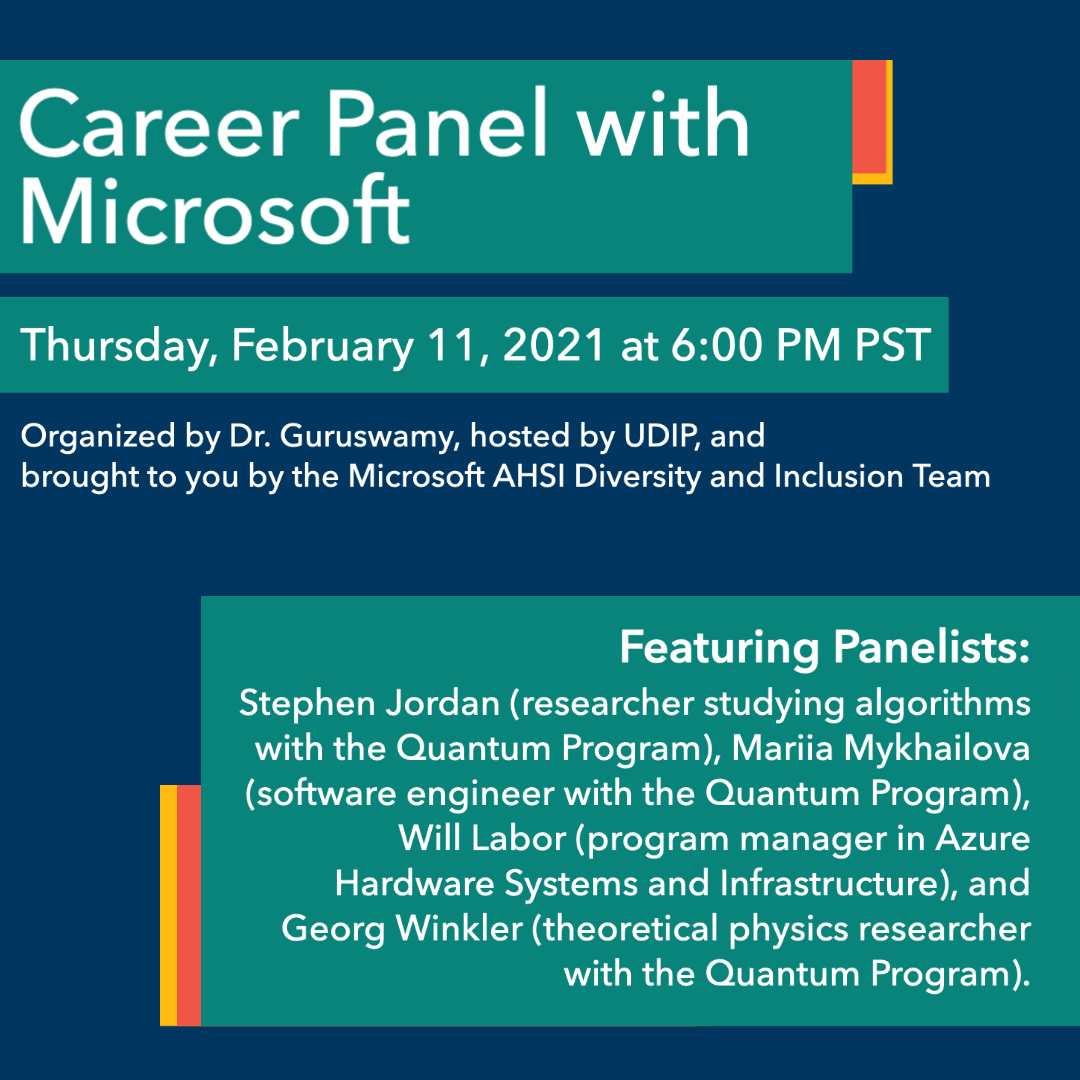 Microsoft Career Panel
We had a great time hosting Microsoft employees Stephen Jordon, Mariia Mykhailova, Will Labor, and Georg Winkler for a virtual career panel! We heard them speak on their career paths and current work, as well as receieved their advice on getting involved in the quantum computing teams and industry in general.
If you missed the event or want to rewatch, login here with your UCSBnetID to find our recording and event transciption.
Interested in learning more about Microsoft's Station Q at Santa Barbara? Click here to read about the local quantum computing lab.
Throughout the quarter, we plan to continue to host career panels in collaboration with Professor Guruswamy, so please keep an eye out for our future plans.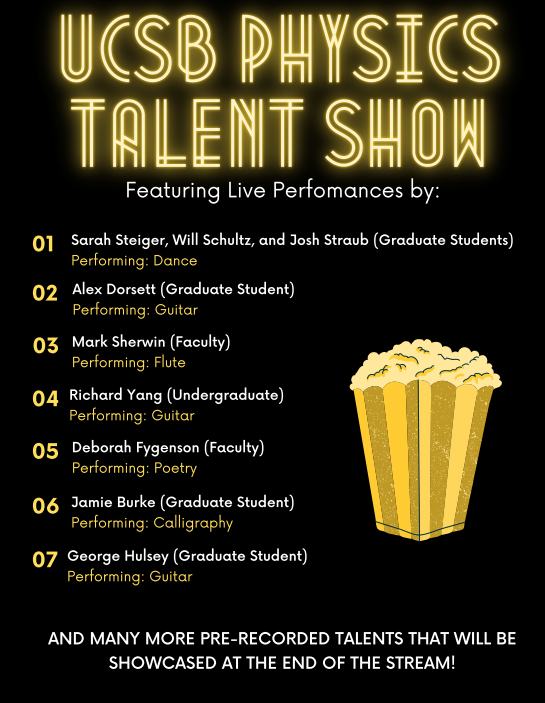 UCSB Physics Talent Show
Grad life put together a fantastic playbill of undergraduate, graduate, and even faculty talents!
Among the live acts featured were graduate students Sarah Steiger, Will Schultz, and Josh Straub performing dance, graduate student Alex Dorsett performing guitar, faculty Mark Sherwin performing flute, undergraduate Richard Yang performing guitar, faculty Deborah Fygenson performing poetry, graduate student Jamie Burke performing calligraphy, and graduate student George Hulsey performing guitar.
Women in Physics panel
SPS, UDIP, and WiP had the pleasure of co-hosting the women in physics panel. The panelists were Mindy Harkness, Molly Wolfson, Gabi Abrahams, and Dr. Sathya Guruswamy. They had wonderful words of wisdom to share, and the notes on this will be uploaded shortly.
First Generation Panel
UCSB Physics department professors Lubin, Pincus, and Martinis were all first generation professors. Watch students Lesley-Garcia Huerta, and Sean Benevides, both first - generation undergraduates lead the first-gen panel.
Login here with your UCSBnetID to access the recorded videos!
Undergraduate Seminar Series
Are you curious about applying your skills in a research setting? Looking to branch out of academia and venture into industry? Are you wondering what you're going to do after getting your degree? We're happy to help guide you through these big decisions! Beginning this Fall Quarter, we'll be hosting a seminar series on general application strategies for fellowships, research opportunities, grad school, and industry. We'll be discussing
How to build a strong application
How to write a compelling personal statement
How to build a CV and Resumé
How to apply for summer research opportunities or internships
How to choose a graduate program or job in industry
How to transition from academia to industry
We also plan to host two panels: one with professors from admission committees and the other with graduated students. In addition, several of our sessions will be dedicated to helping students one on one with application materials! This will be useful to seniors who are preparing applications, and students earlier in their career by learning what makes a strong application. If you are interested in attending these sessions, please take a moment to fill out
this survey
. We are very interested to hear of specific topics you'd like to discuss!
UCSB/IV COVID-19 News
Our New Student Panel was highly successful, and we hope that you found it helpful as well!
UCSB SHS is providing free testing for those who show symptoms. Those who test positive MUST quarantinte for 14 days.
All students coming back for Fall quarter must quarantine for 7 days.
Students throwing or attending parties in Isla Vista will have a one time warning before their institution is notified. UCSB students and organisations will be dealt with accordingly, and peer-to-peer accountability is encouraged.
anta Barbara County reported 19 new cases of COVID-19 on Thursday. There are a total of 172 infectious (active) cases (24 in Isla Vista). Twenty-eight (28) people are hospitalized, with seven (7) patients in the ICU. To date, there are 109 COVID-19 related deaths and 8,803 confirmed cases countywide.
UDIP Requests for the Fall Quarter
UDIP's requests for the Fall included things such as:
Free kits for 127AL
Extending the pass no pass deadline until week 10 like in fall
Improved testing methods
You can view the letter
here
.
The response from Dr.Campignari has been very thoughtful in that a lot of our suggestions were already being considered, and the kits for Fall were paid for by the last of the departments funds. He also expressed that he will bring this letter up in faculty meetings, and has encouraged future communication. We greatly appreciate this cooperation from the department.
UDIP Requests for Freshman Orientation
Our New Student Panel was highly successful, and we hope that you found it helpful as well!
UDIP compiled a list of reccommendations for improving freshman orientation you can find here. We will be working with advisors to ensure that these are read and maintained. Updates will be posted here.
Access notes from our weekly meetings
here
. Make sure to log in with your UC Santa Barbara account.